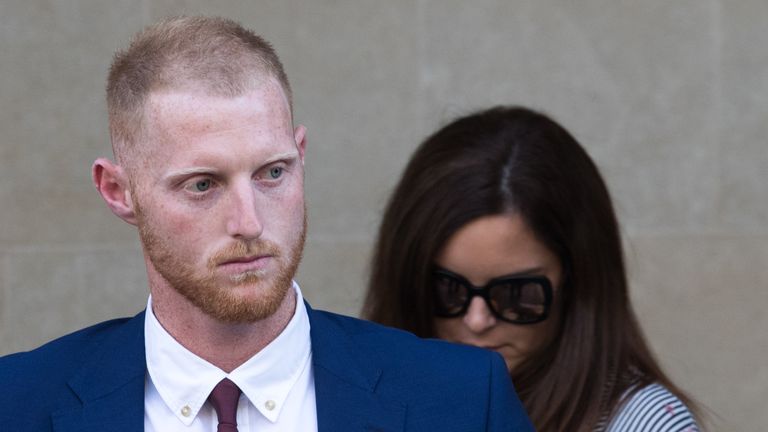 Jurors have been shown CCTV footage of England cricketer Ben Stokes involved in an alleged "melee" outside a nightclub with two other men.
The court has also been shown footage of Stokes brawling with Ali and Hale - who are friends - after walking away from the club.
When asked about separating Stokes and Ryan Ali, 28, Mr Spure told the court: "The individual seemed to be the main aggressor or was progressing forward trying to get to another individual". Earlier Det Con Daniel Adams, who led investigations for Avon and Somerset Police, said Barry, who Stokes is alleged to have mocked for being flamboyant, "makes a grab on Ryan Ali around the groin area" before violence flared. Stokes said "matters had become too serious to ignore and that I had to intervene".
Stokes, who was smoking on the evening, allegedly flicked his cigarette butt at O'Connor's head.
The England cricketer knocked out Ryan Ali with one punch while the firefighter appeared to be backing away from a confrontation, a jury at Bristol crown court was told.
PC Stacey Alway, who arrested Stokes, told the court: "From the moment I approached him (Stokes) he calmed down and was compliant". All three deny a charge of affray.
"It was homophobic in nature".
First look at 'Red Dead Redemption 2' gameplay
You'll be playing as Arthur Morgan, a senior member of an outlaw gang, who has to flee from authorities on the regular. We've seen multiple cinematic trailers , but today Rockstar gave us our very first look at how the game will play .
"These men were speaking to the gay guys in what I would call a harsh and abusive way", the statement said.
Mr. Stokes, in a written statement given to police after he had been arrested, said he had acted in self-defence when punching Mr. Ali and Mr. I took exception and said "leave it out" and "you shouldn't be taking the piss because they're gay". They had shown a willingness to use weapons in attacking people and were willing to gang up such that at points, the pair of them were attacking me on my own.
"I made a decision to intervene and asked Ryan Ali and Ryan Hale to stop abusing Kai and William".
"I believe I felt threatened", he said.
Stokes then tried to shake hands with Cunningham, but this was refused, which Corsellis said "seemed to enrage Mr Stokes". "Obviously it all happened very quickly but I am clear that I felt under threat of immediate attack from both these men and I did what I did only in order to defend myself".
Bristol Crown Court heard he was "squaring up" to other men before he was cuffed.