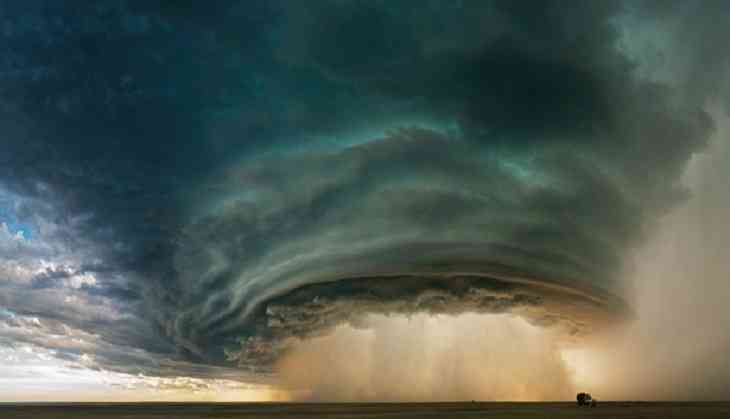 However, Shimla experienced only mild rain, while Manali, Dharamsala and Palampur towns received 8.2 mm, 6.6 mm and 12.9 mm of rain, respectively.
In the wake of this massive storm, flight movement at Delhi's Indira Gandhi International Airport has been put on hold. The dust storm interrupted a programme that Delhi Chief Minister Arvind Kejriwal was to attend at IP Extension.
Earlier in the day, the Indian Meteorological Department (IMD) predicted mercury drop from Sunday onwards.
On Saturday, IMD had said Uttarakhand, Jammu and Kashmir and Himachal Pradesh would witness thunderstorm accompanied by squall today.
A new western disturbance from Monday is expected to cause thunderstorms over the hill States, and their subsequent effect on the plains in northern India.
Delhi Metro operations were also hit.
The DMRC also said service between Inderprashtha and Karol Bagh (on the Blue line) were not available from 5.15 pm due to a tree falling on the overhead electricity (OHE) wires of the up section of the line (towards Dwarka) between Rajiv Chowk and RK Ashram. At least 10 incoming flights were diverted towards other airports. Ludhiana and Phagwara witnessed dust storms followed by showers.
# 07:03 PM: Dust storm hits Kanpur. We had forecasted that the weather will be adverse for 2-3 days.
UFC 224 Primer: Kelvin Gastelum Will Never Be Champ
The first knockdown came in the opening minutes, but Kelleher managed to get back to his feet and fight through it. Proving a wily veteran, Souza took his time on the ref stand-up when Gastelum refused to get in his guard.
When the Metro services finally resumed after around two hours, the trains plied at halting speed. People are leaving the metro as it has not been moving since last half an hour. Thousands of commuters were stuck on the winding and busy Blue Line, which links Dwarka in northwest Delhi to Noida and Vaishali in Uttar Pradesh, for nearly 45 minutes.
A met department officer said south Delhi's Safdarjung observatory recorded a wind speed of 109 kmph.
An Air Vistara flight from Srinagar was diverted to Amritsar following the weather change.
Dust storms were also reported in areas of East Delhi, Noida, Ghaziabad and Gurgaon.
But the sky turned cloudy around 4:30pm and gusty winds started sweeping the city soon after.
Mahesh Palawat, Director of the private weather forecast agency Skymet, told IANS that the change in weather was due to western disturbance which reached Jammu and Kashmir and Himachal Pradesh on Saturday evening.
Sunday's minimum temperature was five notches above the season's average, the Met office said.