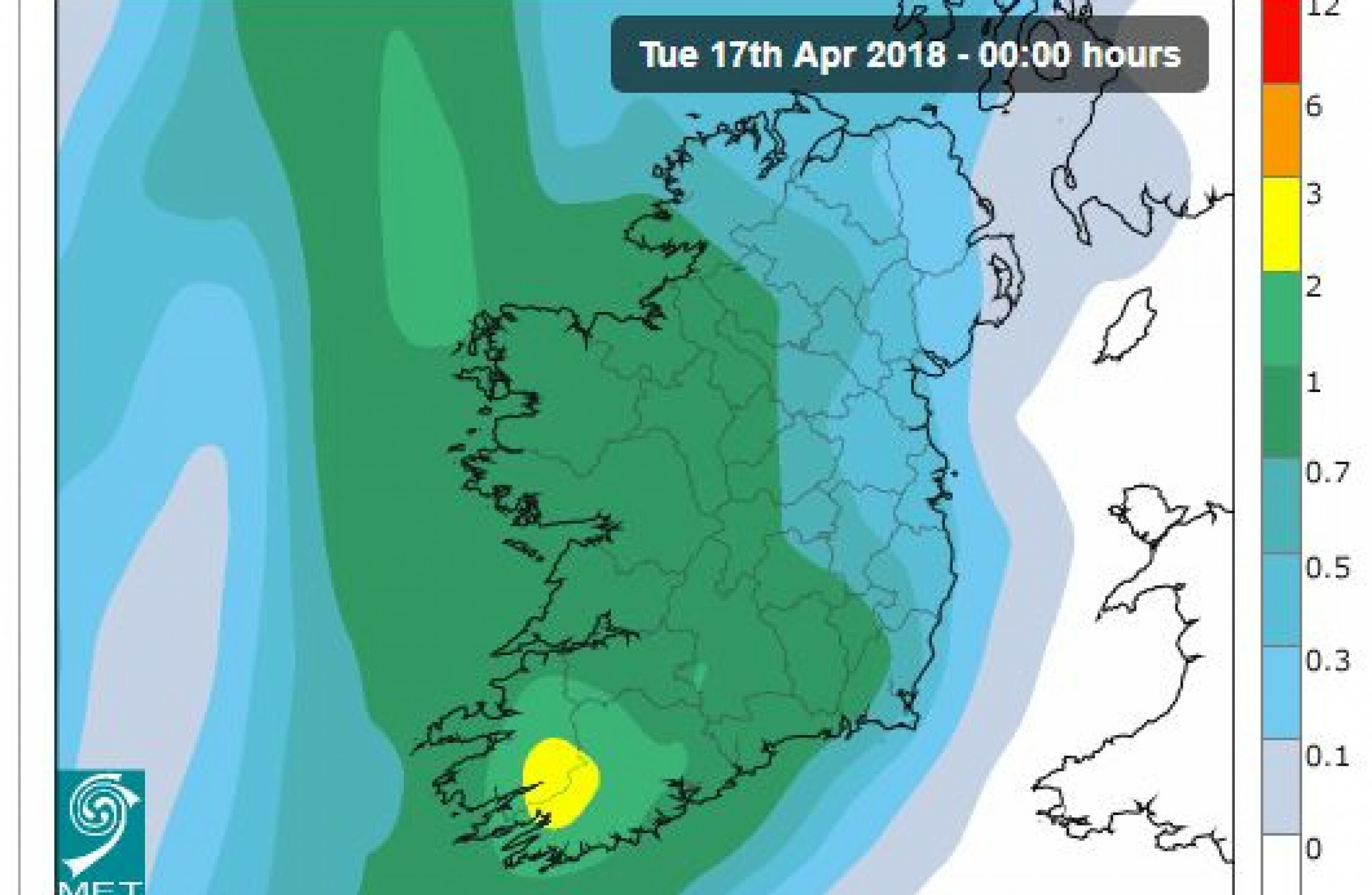 Status Yellow rain and wind warnings are in place today, but a dramatic change in the weather is due by Wednesday, according to forecasters at the national weather service. Showers will follow for the rest of the day, some heavy.
It will be valid in Galway, Mayo, Sligo, Clare, Cork, Kerry, Tipperary and Waterford between 9am on Monday until 9am on Tuesday. Here up to 40mm is expected over the period, with the potential for higher amounts on hills and mountains.
A separate status yellow rainfall warning has been issued for eight counties in the west and south of the country. Localised spot flooding possible, ' the spokesman added.
The good news is that the heavy rain is expected to clear early on Tuesday as a 1,500-mile wide "African air plume" brings bright and sunny weather, with temperatures hitting a seasonably pleasant 16 Celsius.
The warnings come after a far more optimistic forecast for later in the week, with warm and mainly dry conditions and sunny spells predicted from Wednesday onwards, when temperatures will reach as high as 18 degrees.
Delhi HC directs Airtel to modify IPL ads
Telecom operators like Jio and Airtel have launched a plethora of campaigns to boost their sales and increase their brand value. Airtel postpaid customers will get 30GB additional free data with rollover facility in their first bill cycle.
Temperatures will range from 11º to 13º, as southerly winds become strong and gusty everywhere during the day - with gales on exposed west and south coasts.
"It will be noticeably cooler on Friday with a few showers appearing especially in northern counties with highs of 12C to 16C", added Ms Lowe. Lows of 6 to 8 Celsius.
After the stormy weather, Met Éireann is forecasting a big improvement.
Met Éireann says the weather will worsen dramatically after a dry and bright start in most places at first on Monday.