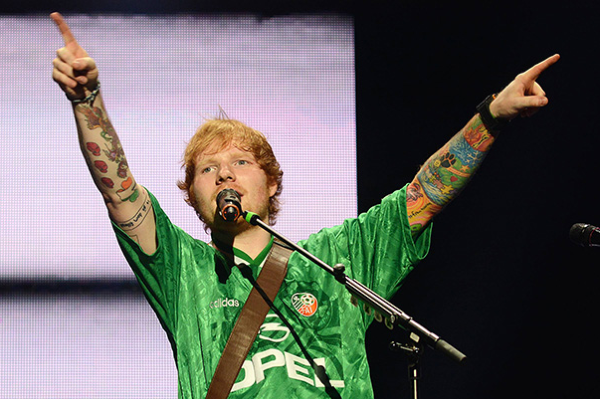 Ed Sheeran could be flexing his acting muscles once more, after being in talks to appear in Danny Boyle's latest Beatles-themed movie.
Sheeran appeared in the FX series The Bastard Executioner and had a highly publicized cameo in Game of Thrones last season, a move made on the part of the showrunners to impress Arya Stark actress Maisie Williams who's a self-professed Ed Sheeran superfan.
"Cindererlla" beauty Lily James will star as a teacher in the as-yet-untitled film, thought to be set in the 60s or 70s, whilst "EastEnders" actor Himesh Patel is on board to play the male lead.
Reports suggest that the new movie has the working title of "All You Need is Love", and it's all about a busker who wakes up and realises he's the only person on the planet who remembers The Beatles' music.
Kendrick Lamar wins Pulitzer Prize
Lamar is known for his piercing lyrics, political statements and his fired-up (sometimes literally) performances. Previous Pulitzer music winners include jazz musicians Wynton Marsalis and Ornette Coleman.
The British superstar musician, Ed Sheeran, is now said by a British tabloid to be in talks to star in Danny Boyle and Richard Curtis's upcoming untitled musical comedy.
As well as featuring musical material from The Beatles' vast catalogue of hits, new music will also be written for the film which Sheeran is also said to be involved with.
Back in 2014, Ed performed a Grammy's tribute to mark the band's 50th anniversary of their first appearance on the Ed Sullivan Show in 1964. "If anyone can make a film about the Beatles songs even better musically, it's him'".
Shooting will take place over the summer for a 2019 release.