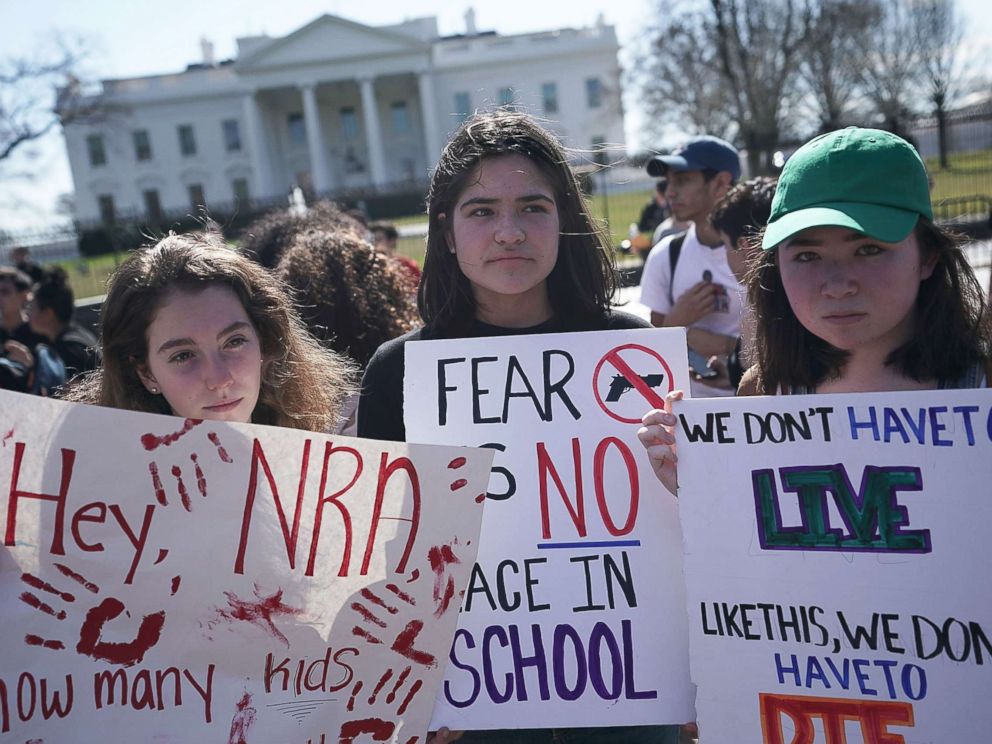 A video that showed a Minnesota high school student holding a pro-gun sign being escorted off campus during Wednesday's national school walkout has gone viral.
Hundreds of thousands of students across the country are planning to leave classrooms on Wednesday at 10 a.m. local time, one month after the shooting at Marjory Stoneman Douglas High School.
Seeing the news of the February 14 Florida school shooting at Marjory Stoneman Douglas High School and knowing that 17 students and other individuals lost their lives that day, Hodges began to think about her fellow students. There were even multiple fights, the school district said, and about 20 students are now facing disciplinary action, the Tennessean reports.
"... We want them to know that we can stand and we will stand", Ashley said.
A student walked out without saying a word peacefully put up his sign which said "guns don't kill people, people kill people" he was escorted off the property by our principal and threatened to be put into a police vehicle.
"What this was supposed to be is a memorial to the 17 kids who lost their lives in Parkland, and I just can't believe those 17 kids".
Watts said the walkout was just the first step, and she hopes her fellow students get out and vote.
Labour investigating another sexual assault complaint from separate party event
While the teens had originally not wanted to go to police, one had lodged a complaint this week, Mr Kirton told media. The party issues a statement saying it is "extremely disappointed" about the incident and launches a review.
The "National School Walkout" was meant to last for 17 minutes, one for each victim. I'm not saying that we should take guns away. They sat on the street with their backs to the executive mansion.
"We are proud of the way our students conducted themselves during today's silent Remembrance Assembly", Ms Rattigan said in a statement. With somber expressions and down-cast eyes, they held 17 minutes of silence.
Some students at the school said Wednesday's walkout wasn't a fair portrayal of the school.
"I think the message has gotten skewed throughout the whole process", said Ben Sholar, an event organizer at West. Take for instance protests during the Vietnam War or more recently students speaking out about DACA and immigration issues.
District 60's Superintendent designated a 30 minute "intermission" from class for students who wanted to participate.
"We have been failed at the Colorado state house and at the capital building in Washington D.C. and across our country", Fairview student Henry Magowan told the crowd. They have also helped organise another walkout in April, and a "March for Our Lives" later this month.
At Pope High school, a few dozen students walked out, despite the warnings from administrators not to.