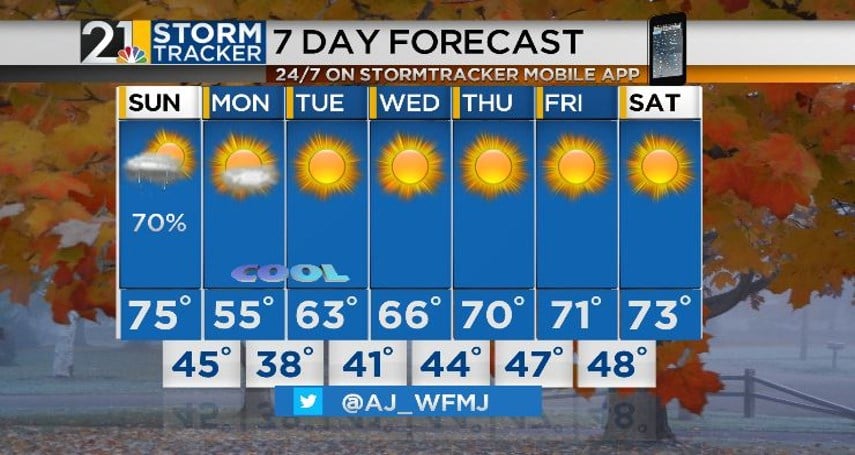 Wednesday: A chance of rain and snow showers before 2 p.m., then a slight chance of snow showers between 2 p.m. and 4 p.m. An area of low pressure over Texas is set to move northeast with a line of associated rain.
Tonight: A chance of light snow, mainly after 2 a.m.
Tuesday will start off dry with a few scattered showers possible during the afternoon before a cold front swings through the region late Tuesday night into Wednesday morning producing widespread showers and storms.
Rupee crashes 68 paise against dollar after Gujarat poll trend
In the crucial assembly elections in two states of India BJP leads 84-52 in Gujarat while it leads 15-8 in Himachal Pradesh ... Gujarat went to polls on December 9 and 14 following a high-octane election campaign that saw allegations fly thick and fast.
Temperatures will drop to more seasonable levels on Wednesday.
High pressure will hang on for one more day. Afternoon high temperatures top out in the lower 40s. The clouds will stick around through roughly mid-morning on Sunday. Rain chances hold off until the morning. The warm front is moving into some very dry air so we expect a lot of the precipitation along the boundary to fall apart. Still, it only takes a trace of freezing rain to be problematic for drivers and cause slick spots on the roads. The warmest temperatures will be seen south of I-78 down into the Delaware Valley. More rain is expected over the weekend. Even under mostly cloudy skies, temperatures will still climb to the upper 60's and lower 70's most places inland from the coast. The rain showers from the afternoon are not expected to carry into the overnight hours. Monday night will be mostly cloudy. Some patchy fog will once again be possible, certainly across those sheltered valley locations. For now, doesn't look like we will see a significant cooldown over the next 8 days, with high temperatures still projected in the 60s for Friday through Sunday. South wind 5 to 8 miles per hour. A cold front brings readings back down midweek. Wednesday should be breezy as well with partly sunny skies and highs back in the low 40s. Mostly cloudy, with a high near 43. West wind 10 to 13 miles per hour. A warm front will lift north of the area allowing a mild surge of air to make a comeback to the region.