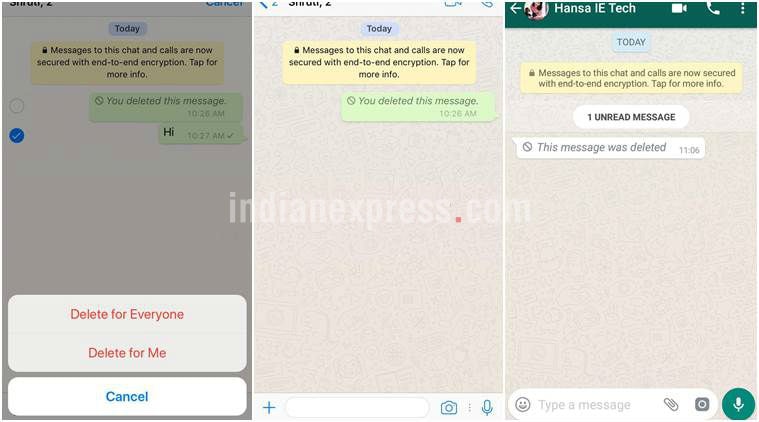 However, there seems to have a loophole in the feature as users can still access a deleted message if they really want to.
A Spanish blog Android Jefe has figured out a way that lets you check out a WhatsApp message that someone has sent you but deleted before you could read it.
In order for messages to be successfully deleted for everyone, both the users must be using the latest version of WhatsApp for Android, iPhone or Windows Phone. If your device runs on stock Android then you can get access to the notification log from the Settings widget.
The Notification Log is home to every single notification to ever hit your phone, and a simple app called Notification History can get you access to it. While a "deleted message" has actually been removed from WhatsApp chat thread, the message (in the form of a notification) is still available on the Notification History. The report reveals that the deleted message will be present in the notification log of the recipient's smartphone.
The report suggests that anyone can read the deleted message sent to them on WhatsApp using any third-party app. "So, it's just a matter of entering that record to see the messages that the other person deleted", the blog writes. The blog points out, "the message will be in the line that says "android.text", as you can see in the illustrative images at the beginning". Just long press the home screen, and tapping on Widgets Activities Settings Notification log. "We found that the messages are stored in the notification register of the Android system".
South Korea quake leaves 1500 homeless, dozens injured
Geological Survey said it was centered about 9.3 kilometers (5.8 miles) northwest of the port city. The authorities received almost 1,200 calls reporting facility damage in the area.
The Independent tried out both methods and found that, while it is possible to view messages that have been deleted, you need to have already interacted with them. Also, the log is deleted when the phone is restarted.
The process is even easier for people using third-party launchers like Nova Launcher.
Further, the messages are apparently stored for a few hours on the device and are deleted if users restart their device. Finally, doesn't look like it works for devices running Android versions older than Android 7.0 Nougat.
If you thought WhatsApp's delete for everyone could be your saving grace for all those times you wished you had not sent that embarassing text to someone, well, think again. However, you're safe if you accidentally sent a photo or video to someone you shouldn't have, and deleted it afterwards.